Stay Afloat Australia's Mental Health First Aid courses available nationwide
As part of the Stay Afloat Pilot Program accredited Mental Health First Aid courses are available for commercial seafood communities nationwide. The 2-day course is available to all members of the commercial seafood community, including adult family members and friends, and will be hosted in key seafood communities around the country. 
Here at Stay Afloat, we have worked hard to ensure the language and examples used in the course are relevant to industry, and the trainers have been hand picked and inducted ensuring they understand the particular needs of each local fishing community. 
Approximately 1-in-5 Australian adults experience a common mental illness each year. Understanding how to talk about mental health and how to help someone in need are important skills. Many of us feel uncomfortable and unprepared when we think about starting a conversation with someone we are concerned about. At a Stay Afloat Mental Health First Aid course you will learn how to recognise the signs and symptoms of mental health problems and learn the skills to feel confident and able to help. Having mental health first aid skills means that you can assist someone developing a mental health problem or experiencing a mental health crisis and make a real difference to your community.
Mental Health First Aid Courses 
May 4-5 – Sydney Fish Market, New South Wales

May 10-11 – Port Lincoln, South Australia

May 13-14 Streaky Bay, South Australia

May 17-18 – Hobart, Tasmania

More dates to be announced soon
About Mental Health First Aid
Mental Health First Aid Australia is a national not-for-profit organisation focused on mental health training and research. Our core work is to develop MHFA courses, and train Instructors to deliver these courses to their communities or workplaces. MHFA courses are delivered across Australia and internationally. MHFA courses teach members of the public how to provide initial help to a person who is developing a mental health problem, experiencing a worsening of an existing mental health problem or in a mental health crisis. The first aid is given until appropriate professional help is received, or the crisis resolves.
Stay Afloat Australia's Community Resilience Grants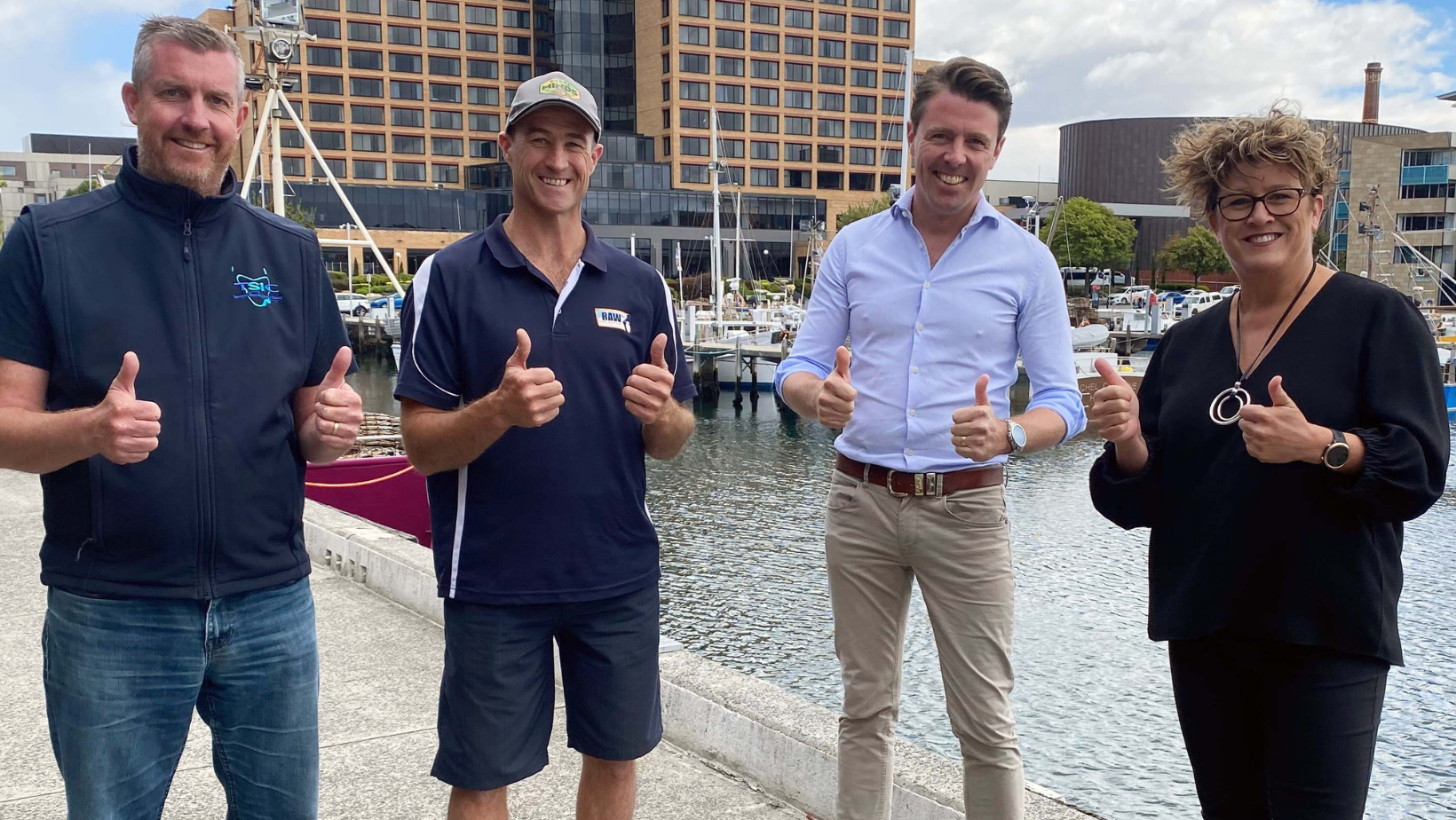 STAY AFLOAT: (L-R) Tasmanian Seafood Industry Council CEO Julian Harrington and Rural Alive and Well operations manager Andrew Dean joined Senator Jonno Duniam and Stay Afloat program manager Jo Marshall for the launch of the grants in Hobart on February 8. 
As part of the Stay Afloat Pilot Program 35 Community Resilience Grants are available to support events that encourage commercial seafood communities nationwide to come together in a supportive setting to raise awareness of mental health and the benefits of overall wellbeing.
The grants form an important part of the Stay Afloat program and are designed to support and improve the mental health and wellness of our national, commercial seafood industry. Members of commerical seafood communities both small and large are encouraged to apply.
The objectives of the grants are:
To encourage seafood community members to come together in a supportive setting;

To raise awareness of the benefits of positive mental health and overall wellbeing towards a quality of life; and

To provide support and tools to improve the mental health and wellbeing of our commercial fishers.
How to Apply in 3 easy steps!
1.
Download and Review the Community Resilience Grants application to ensure your idea aligns.
2.
Complete the application form.
Once we receive your application our grants approval panel will review and let you know the outcome.
We encourage everyone to apply and if you need a hand just let us know.
Tie a barbecue or morning tea to your next association AGM, safety day, meeting or just because you want to and ask us for some positive mental health material to share, or find a local speaker to engage with. Topics that you may like to focus on include
Healthy communities
Healthy living
Positive psychology
Mindfulness
Stories of lived experience with mental illness
Stress management
Start a weekly walking or other exercise group that ends with a breakie, or cup of coffee at the local café.
Hold a community 'Walk to Stay Afloat' – engage local community members, even your local council and hold a community walk followed by a breakfast. Get fishers and their families to come along.
Don't get tied up in knots! – hold an event where people can come and learn the generations old skills of fishermen, such as tying knots or mending nets.
Land meets sea – get a group of local primary producers together from both land and sea (farmers and fishers) to hear from a local speaker, share stories, food and laughter.
Start a book or podcast club – get together once a month to chat about a common book or podcast on a topic of the groups choice. Use your funds to buy a cuppa, or some books each month.
'Feeding our Fishers' – Engage with some local chefs/hospitality workers and hold an event where your local fishers bring along the fish and the locals 'give back' and show appreciation for our Fishers by cooking them a meal. You could get creative in lots of ways to make our Fishers feel appreciated.
The horizon's the limit! Get a group together and discuss ideas.
We look forward to supporting events in your area!